Error: Twitter did not respond. Please wait a few minutes and refresh this page.

Archives

Catagories

Tags

Baby Led Weaning

Blogroll

Breast Feeding

Doman Method

elimination communication

Montessori

Most Popular Posts
All posts tagged Baby D
It has been quite a while since I have posted anything. Baby D is practically grown up.
Posted by ExperimentalMom on March 25, 2012
https://experimentalmom.wordpress.com/2012/03/25/updated-photos-of-baby-d/
Do you mind, mom? Can't a baby get some privacy? I havn't even put away my toys! The room is a mess! Why do you insist upon embarrassing me?
Posted by ExperimentalMom on January 22, 2012
https://experimentalmom.wordpress.com/2012/01/22/baby-d-and-the-big-boy-potty/
Today Baby D met Santa for the first time. He did not cry, but did appear to wonder what this strange looking person was all about. Perhaps he was thinking "I've heard the song. You see me when I'm sleeping? You know when I'm awake? I've got my eye on you, Santa". He also got to see Cousin S, who was portraying the Ice Princess at the north pole display. She looked lovely in her gown!
Posted by ExperimentalMom on December 17, 2011
https://experimentalmom.wordpress.com/2011/12/17/what-is-this-santa/
Baby D now sips water from a small glass while I hold it for him. He really enjoys drinking from a glass. The process goes something like this:
1. Sip
2. Belly Laugh
3. Reach for Glass
4. Repeat Process
The laugh is priceless– such joy at discovering something new. I never realized drinking water could be so funny! This is also a Montessori concept. In Montessori babies drink from a small glass that at first is held by the parent and eventually can be used independently by the child. "Sippy" cups are discouraged since they can be carried around and knocked over with no spills. The idea is that by trusting the child with a real drinking glass the child learns to use it carefully and develops in self respect.
Posted by ExperimentalMom on December 15, 2011
https://experimentalmom.wordpress.com/2011/12/15/drinking-from-a-glass-is-hilarious/
Posted by ExperimentalMom on December 9, 2011
https://experimentalmom.wordpress.com/2011/12/09/baby-d-investment-advisor/
Baby D continues to grow, and he seems to do something new eery day. We have not been doing words as consistently as we were, but we will get back to that soon. He still uses the potty regularly. He is about ready to graduate from the infant potty bowl to one that he can sit on by himself. We read every day, and he tries to eat the books every day. Thankfully he has not succeeded in making a meal of his reading material yet. Here is a look back at the past few weeks in the life of Baby D:
Stay tuned for photos from Auntie K's wedding, where Baby D will wear a tiny tuxedo. Watch out ladies, here he comes!
Posted by ExperimentalMom on November 11, 2011
https://experimentalmom.wordpress.com/2011/11/11/what-baby-d-has-been-doing-lately/
There is something invigorating about the crisp autumn air in combination with the seemingly celebratory colors of the leaves. We took Baby D on a day trip to Old Sturbridge Village to really enjoy the change of seasons. He loves being outside, and is intensely interested in everything around him. We talked about the trees and plants, why leaves change color, the animals we saw, how a water pump works (Mommy pumped the handle while Daddy held Baby D and let him touch the stream of water), and how a water wheel drives a mill. We also just enjoyed the air and the scenery. It was a good day! Here is a sample of what we saw.
We walked through the village and out toward the Freeman Farm. This is the view looking out from the road to the pastures of the farm.
We are approaching closer to the pasture.
The grist mill.
The saw mill in operation.
Dock the ox. Or is this Blue? I get them mixed up. Over the past year we have seen Dock and Blue grow from calves into adolescents. They are quite friendly. Baby D like to stare at them.
Trees reflected in the pond.
The Salem Towne house, built for Salem Towne, Jr. in 1796. Read about it here.
A side view of the Salem Towne house.
A flower in the garden of the Towne house.
More flowers in the garden.
A tree in fancy dress for the season.
A chicken struts in the village.
Baby D! He enjoyed his day and was quite tired afterward. Happy autumn everyone!
Posted by ExperimentalMom on October 13, 2011
https://experimentalmom.wordpress.com/2011/10/13/an-autumn-outing/
I posted a series of photos with captions in an earlier post, and it published as one photo with many captions. Here is what I intended:
Baby D is three months old today! To celebrate, here are photos of a few of his favorite activities:
 Hanging out with his buddy Curious George. Courtesy of Auntie K.
Keeping it cool.
Napping with Grandpa.
Happy three month birthday, love. Keep growing!
Posted by ExperimentalMom on August 15, 2011
https://experimentalmom.wordpress.com/2011/08/15/corrected-post-three-months-old/
Yesterday my husband and I went to Old Sturbridge Village for the day. Baby D stayed with his grandparents and his Auntie. He had a good time, we had a good time… but I was relieved to see him at the end of the day. Old Sturbridge Village is a re-creation of an 1830's New England town. There are period buildings that have been relocated from various locations around New England, and costumed interpreters portraying life as it was lived in that period. There is also a working farm, and many animals. This past weekend was domestic textile weekend, and there were demonstrations of spinning, weaving, knitting, rug making, and knot work. We heard music on the 1820's pipe organ, met a seven week old calf, visited with interpreters cooking salt pork, apple pie, and vegetables on the hearth, and learned about cider orchards. We  also attended a gallery talk about women's domestic textile work. The examples of woven coverlets, tablecloths, "serviettes" (napkins), and garments were gorgeous. We were surprised to learn that home spun yarn from this period was as fine and even as the factory made yarn of today. The idea of "homespun" being rustic, chunky, and uneven is a modern concept. The women who produced textiles at this period were masters of their craft. Textile factories at first had to convince the public that their goods were of as good a quality as home made. Factory goods eventually became more prevalent and replaced home made, of course.
All of that was fun but… it was even better to get back to Baby D. I called a couple of times to ask how he was. My husband told me he was sure the baby was safe with his grandparents. I tried to explain that I was not concerned about his safety, just feeling anxious about not being with him. It must be a mom thing.  At any rate, Baby D had a good day with his grandparents, and we had a good day at Sturbridge– but I think it will be a little while before we spend so much time apart again.
Here are some photos from the village. I did not take them, they are from the village's website. I was so concerned about packing for Baby D I forgot our camera.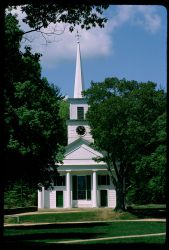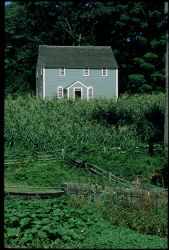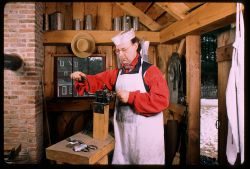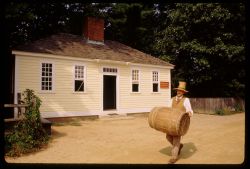 Posted by ExperimentalMom on August 15, 2011
https://experimentalmom.wordpress.com/2011/08/15/all-day-without-baby-d/